Accessibility
The Pioneer Center has installed a variety of aids to assist the handicapped in gaining access to and enjoyment of the performances presented at our theater. We are fully compliant with State and Federal ADA regulations.  Pioneer Center staff and volunteers have been specially trained to assure that patrons in need of these aids can utilize them to their best advantage.
If you have special requirements, contact our Box Office at (775) 686-6616 or boxoffice@pioneercenter.com as far in advance as possible so that we may be better prepared to meet your particular needs.  
Wheelchair Spacing with Companion Seat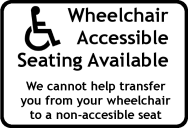 Accessible locations for patrons in wheelchairs are available for both single ticket and subscription ticket holders.  Along with advanced notice, we recommend that patrons using wheelchairs be accompanied by a companion to provide assistance.  Seating for one accompanying patron is available next to each wheelchair space.  Additional guests in your party will be seated as near as possible.
Please call (775) 686-6616 to speak to a Box Office representative to purchase wheelchair and/or companion seating.  Wheelchair and companion seating are not available for purchase online.
Hearing Assist System
Patrons with hearing difficulties are encouraged to use the Pioneer Center's headset system.  Wireless, lightweight headsets are available at no cost to those who need hearing assistance. The headsets may be picked up at the Coat Check area in the upper lobby. To obtain a headset, a driver's license or major credit card will be required for deposit and will be returned upon receipt of the equipment at the close of the performance.
Ramp Accessibility
Wheelchair ramp accessibility is available only for seating in the orchestra level; it is not available in the balcony.
ADA Parking
ADA parking spaces are located on State Street, adjacent to the Pioneer Center plaza.  Additional parking spaces are located in the Washoe County Restricted Parking lot on the corner of Virginia and Court Streets.
Wheelchair Accessible Restroom Facilities
All restrooms can accommodate wheelchairs and are accessible from the upper lobby, lower lobby, and Exhibition Hall level.
Usher Assistance
Pioneer Center ushers will be happy to escort and aid patrons who request assistance to and from their seating location.  Ushers are not permitted to assist in transferring patrons from their wheelchairs to non-accessible seating or vice versa.